BizMobile Go! Key Features
8. Cutting-edge technology that reduces operation costs
---

Free from system operations
By using the cloud-based BizMobile Go! service, you become free from 24/7 server/network maintenance for MDM system, which is required for in-house systems, and focus on your business. You are also free from routine work such as fixing bugs, taking actions for vulnerabilities, and managing version updates.
---

Kitting task reduction
Tasks ranging from initial configuration during installation to application/configuration distribution and updates during usage of devices can be performed on the BizMobile Go! management page, other than OS updates and activation. Starting from iOS 9, OS updates can be forced and activation can be bypassed, therefore, initial configuration which usually had to be outsourced can now be performed in-house.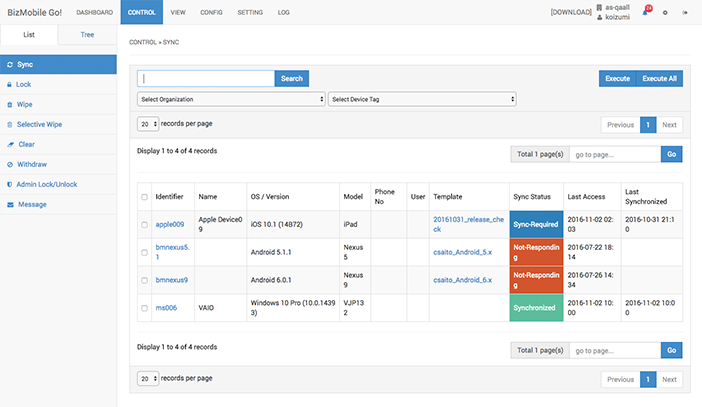 Starting from iOS 9, Android 6, and Windows 10, forced OS update and automatic downloads/installations can now be done through Supervised Mode and Device Owner Mode. Additionally, the DEP (Device Enrollment Program) now allows you to skip unnecessary steps in the device setup assistant during activation.
Initial configuration for new device implementation
Initial configuration for new device follows the procedure outlined below. The tasks to be performed after activation (initial settings) are usually done manually, and are not automated. Even though general MDM services make use of DEP/VPP and have automatic settings, subsequent tasks still have to be performed manually. BizMobile Go! uses variety of techniques to solve problems and obstacles, therefore, under certain conditions*, it is possible to make the process fully automatic. Most tasks can be automated, including distribution of applications, so that manual configuration could be reduced and there is no need to bring in a costly specialized vendor just to perform these tasks.
※Devices should be a COCM (Corporate-Owned, Corporate-Managed) device, which is activated with Supervised Mode (for iOS 9) or Device Owner Mode (for Android 6)
Least manual implementation process for iOS devices
No.
Task category
Screen
Operation
Task to perform
Methods to automate
1
Advance purchase
Vendor screen
Purchase licenses
Purchase certificate licenses
Done manually
2
VPP service
Purchase application licenses
3
Purchase content licenses
4
Setup tasks
MDM management interface
Advance registration in MDM
Register device to be managed
DEP service
5
Configurations
Register passcode policy
BizMobile Go!
Template Function
6
Register Wi-Fi, VPN, and email account details
7
Register restrictions on features
8
Certificates
Register certificates
9
Application
Register applications
10
Register application configuration (URL to connect to, ID, password)
11
Contents
Register contents
12
CSV
Register device specific information
13
Tasks to be performed when usage begins
Device screen
Activation
Configure initial settings on first use
DEP service
14
Register MDM
Register device
15
Register passcode
Configure passcode
Done manually
16
MDM operations interface
Configuration
Issue configuration
BizMobile Go!
Synchronization Function
17
Certificates
Issue certificates
18
Application
Install applications
19
Issue application settings
20
Contents
Distribute contents
Automatic initial configuration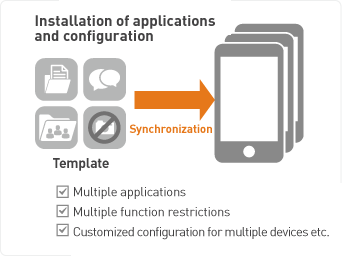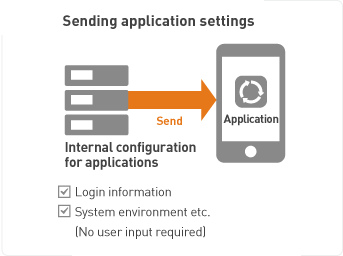 Configuration after device distribution
Work required for configuration falls into two categories: Initial configuration for new devices, and additions/updates to the configuration of existing devices. Tasks that fall into the latter category are the most troublesome.

When you need to add or update applications after devices have been distributed, one of the following three methods is to be chosen: 1) Ask the device user to do it, 2) Collect the devices back and add/update the applications, or 3) Add/update applications using an MDM service. BYOD and COPE models would require device users to perform the updates themselves, but if the users are managers or executives, you need to book their time to perform on the spot. For devices owned by the enterprise, there has been a dilemma: While an enterprise may want to block the installation of applications unrelated to work, it will prevent necessary updates as well.

Hence, many enterprises have chosen either 1) Block installations anyway, but collect devices back to perform updates, or 2) Not block installations, but notify the administrator if undesired applications are installed. Small enterprises have chosen 3) Update/distribute applications via MDM. However, starting from iOS 9, you can block undesired application installation while allowing necessary application distribution/updates through an MDM service. MDM-based application distribution has finally become a practical solution.

Devices are in various circumstance during usage, that may be different from the circumstances when they were initially configured. They can be turned off, can be out of connectivity, can be in sleep mode with the screen locked, or in use with the device unlocked. If configuration changes are performed without stable Internet connection, updates may not be completed. Updates will require repeated instructions until they become successful.

BizMobile Go! combines templates and synchronization mechanism to automate updates and additions to existing devices. Therefore, compared to other MDM services, BizMobile Go! can change configuration in a much simpler way.

Process to change configuration with BizMobile Go!
No.
Task category
Screen
Operation
Task to perform
Methods to automate
1
Advance purchase
Vendor screen
Purchase licenses
Purchase certificate licenses
Done manually
2
VPP service
Purchase application licenses
3
Purchase content licenses
4
Setup tasks
MDM management interface
Configuration
Change passcode policy
BizMobile Go!
Template Function
5
Change Wi-Fi, VPN, email account information
6
Change functional restrictions
7
Certificates
Replace certificates
8
Application
Add/update/delete applications
9
Change application configuration (URL to connect to, ID, password)
10
Contents
Add/update/delete contents
11
CSV
Add/update/delete individual information
12
Tasks to be performed after usage starts
MDM operations interface
Configuration
Issue settings
BizMobile Go!
Synchronization Function
13
Certificates
Issue certificates
14
Application
Install applications
15
Issue application settings
16
Contents
Distribute contents
17
Re-issue
Automatically repeat issuing activities until they become successful