BizMobile Go! Key Features
7. Superior usability and support organization
---

ONE portal
Our management portal has been continuously improved based on customer feedback. It summarizes all the information that an administrator would need on one single page. In case any response is required, all it takes is a single click to move to the operations interface to complete action. We provide functions that allow tasks from device monitoring/setting to application distribution in a simple manner.
Conventional MDM systems have to mix various systems inside to manage a mixture of old and new devices, which run Android, iOS, BlackBerry, Mac OS, Symbian, Windows Mobile, Windows PC/RT and Windows Phone. In particular, former container-based technology used in MAM and MCM was reconstructed in new OSs (iOS 9/Android 6/Windows 10), which makes these old systems complex and hard to use. As BizMobile Go! is architectured for the newest operating systems using the newest technology and programming languages, it has a much simpler and more user-friendly mechanism.
Dashboard - The gateway to all your information
The dashboard is a dedicated interface to see if there is any problem. If a problem has occurred, all you need to do is to click on the corresponding area on the screen, and you will move immediately moved to an interface to take the required action.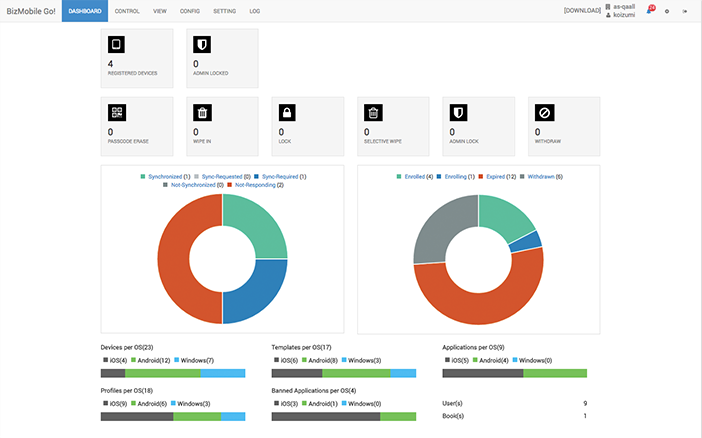 Management interface layout
You can check the usage status by dashboard, filtered display and log. Actions can be taken on the operations page. There are a couple of different views of the status: i.e. summary mode, tree mode and filter tags. MDM system settings are to be configured under "Settings". Operations (object) are sorted with rows, and how the operations were performed (command) are shown in columns. Basic operations stay the same for different operating systems, and you only need to move to OS-specific interfaces if actions differ from OS to OS.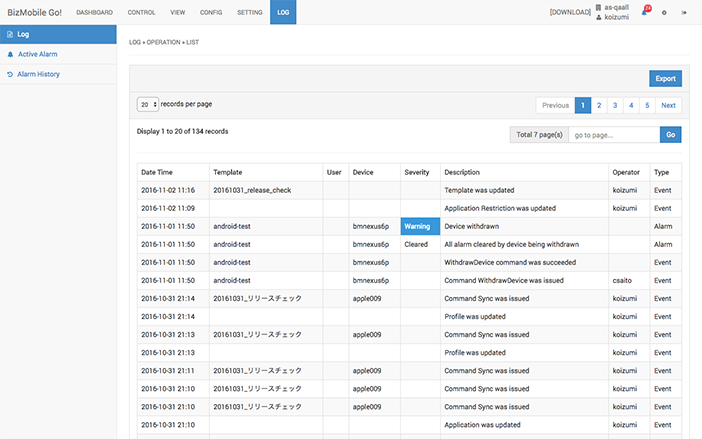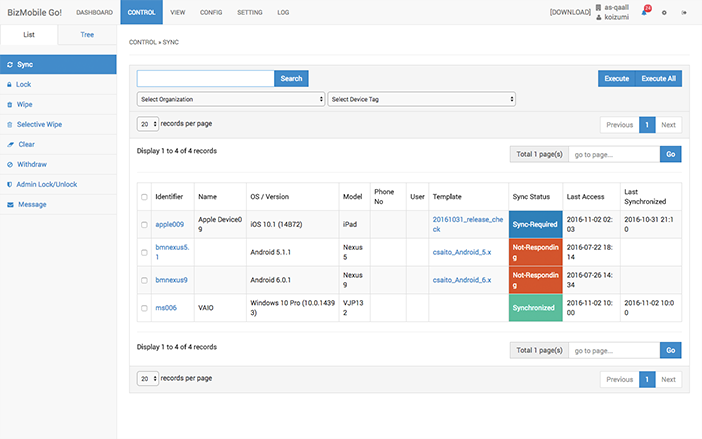 ---

Customer operations support
We provide 24/7 emergency response to system breakdowns via email and phone. Our support center is open 10:00-19:00 on weekdays for general inquiries.
Our customer support center is supported by our development team with technological and analytic capabilities to quickly resolve issues and unexpected problems. BizMobile is also supported by engineers who have direct contact with Apple, Google, and Microsoft.